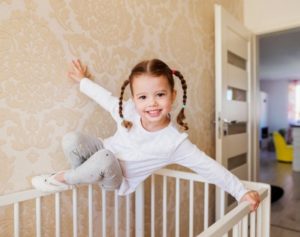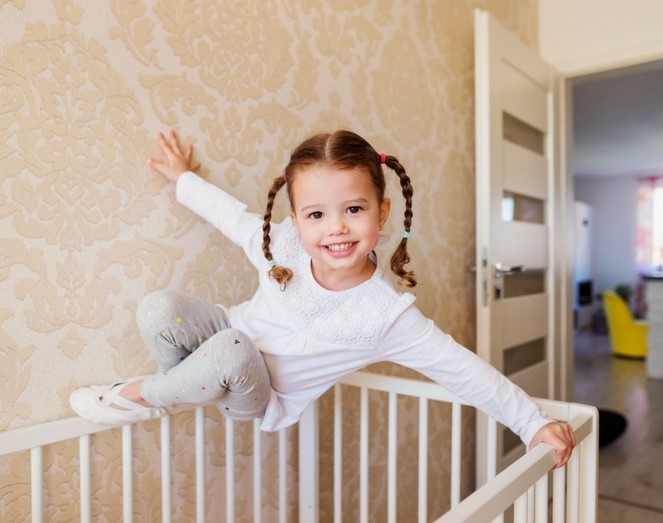 Have a crib-jumper? A very big/tall toddler? A new baby coming who will need your only crib? Just really excited about that new Pottery Barn bed with the cute sheets?
Unfortunately, none of these are amazing reasons to transition your toddler to a big kid bed.  Or even convert their crib to one open side.  If you are having sleep difficulties now in the crib, they will not magically disappear when you move your child into their own bed.
So when IS a good time or reason to move your child?
Ideally, you want to wait as long as possible (or at least until their 3rd birthday)
Why?
Because you have spent a large portion of their life defining their crib as their safe place.  They actually love and respect that confining environment.  When you transition a toddler too early to a bed, they lose that sense of security and safety.
The most common reason parents transition their toddler to a big kid bed too early?
Climbing out of the crib.  It's actually a question posed daily on Facebook mom's groups.
That crib was a safe place for both of you. As parents we view the crib as a space where our child will not get hurt and we get a little time independent of watching/entertaining them.  So it's understandable that many parents tend to panic and immediately move their child into an open bed, thinking this will be the safer alternative.
Is it safer to move to a big kid bed?
Well, that really depends.  When you move a young child into an open environment, you have to set safety guidelines, just like their crib provided.
Is their room free of potentially dangerous objects?

Is there a dresser they could climb on or tip onto them?
Are there cords from the blinds hanging down?
Are electrical outlets covered?
A friend of mine told me a hilarious yet horrifying story of her toddler during naptime. She found her playing with a piece of glass that she had taken apart from a picture frame in her room.
You will need to empty out their room from any potential hazard.

Then, there's the issue of the door…

Are you going to keep it closed? Can your toddler open it and be free to roam the house?
Will you lock the door or use a gate to keep them safe?
Switching your child into an open bed is a BIG transition.  Many parents find that it goes really well the first couple of nights and then things rapidly deteriorate.  Their child starts leaving the room repeatedly.  They become fearful of the dark or things in their room.  They now require mom or dad to lay with them until they fall asleep.
So what do you do with a crib climber?
First exhaust all options to keep them in that crib.
Start with a snug sleep sack.  They will not be able to lift their leg to climb over.
If their crib has one side that is higher, turn that side facing out and the lower side against the wall.
Still climbing out?  Ok, here's my BEST pro advice: catch them in the act.  This is where those amazing video monitors come in very handy.
You will need to diligently watch your child on the monitor at nap and bedtime.  When you see them climb out, you will go in and very firmly say "NO, we stay in our bed" and put them back in.
You may have to do this 100 times but it WILL work if you are consistent.  Toddlers have a lot of energy and can seem relentless.  But you have to be stronger and win this battle!
If you're struggling to develop a plan or feel like you've tried everything, reach out!  I have lots of tools in my toolbox!